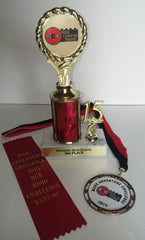 Mars Adventure Challenge Awards Package
Go all the way.  Present to your students all 3 items, the Mars Adventure Challenge Participation Ribbon, Medallion and Trophy.  The complete set can be sent to you for you to present to your students at your awards banquet.
**Medallion pictured will be slightly different. Wording on Trophy plaque will be different.
*Minimum Shipping & Handling Charges apply.