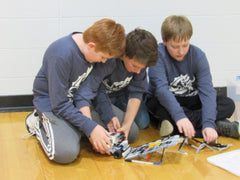 Competition Team Registration
Competition Team Registration includes:   
          One(1)-Team Registration to participate in the current year at a local RCX Challenge Regional Tournament.
PURCHASE OF THE CHALLENGE SET OR COMPETITION SET IS REQUIRED TO QUALIFY, ON THIS ORDER OR PREVIOUS ORDER
Regional tournaments are limited, check for availability of a tournament near you before you purchase.  Teams may have to travel to participate.
                   NO Refund if Cancelled after 30 days
                   NO Refund after Team Registration Form completed